Description
Get control of your mobile endpoint environment
With the KACE Cloud Mobile Device Manager (MDM), you no longer must compromise endpoint security to enable end user productivity – both are achievable goals for your organization using this cloud-based, mobile device management solution.
Features/Add-Ons
Simplified device deployment
Eliminate the need for manual device enrollment by providing remote users with pre-configured, fully managed devices out of the box while supporting BYOD by providing a separate space for company applications and settings to reside on personal devices.
Location tracking
Manage and secure your devices with comprehensive location tracking features that makes it possible to configure a feature, collect real-time location data, set and display compliance information and track location history.
Powerful device control
Remotely inventory, lock, erase, factory reset or reset the password of any enrolled mobile device. Easily configure one or more mobile devices by pushing applications, settings restrictions and other criteria while saving preconfigured settings for to streamline deployment of new devices.
Automate policy and process management
Take a deeper approach to policy management by layering library items, configuration requirements and figure sets on mobile devices, so you're able to prove that company policies and compliance mandates are being enforced.
App store enablement
Provision and deploy required store and in-house developed apps to according to enterprise distribution programs. Manually or autonomously, identify out of date apps and push updates
Modernized mobile device management
With additional support for macOS and Windows 10 enrollment, extend your level of device management beyond what fits in your pocket. Complete with Apple DEP support, as well as configuration management, you can consolidate management strategies for heavy and light form factors alike.
Ready for identity management
Take a user-centric approach to arrange and assign configuration policies to devices and any potential device a user owns. Achieve easy sign-on and user configurations by connecting identity providers who are compliant with SAML or OpenID Connect to the KACE Cloud MDM.
Unified endpoint management
Integrate the KACE Cloud MDM with the KACE Systems Management Appliance (SMA) to streamline your transition to unified endpoint management and gain comprehensive visibility and control over your traditional and mobile devices through a single interface.
Supported mobile platforms
Apple
iOS 8.0 or higher
iPadOS 13.0 or higher
tvOS 10.2 or higher
macOS 10.13 or higher
Google
Android 6.0 or higher
Android Zero-Touch Enrollment, Android 8.0 or higher
Microsoft
Template library
Start with the library when creating and managing configurations for your enrolled devices.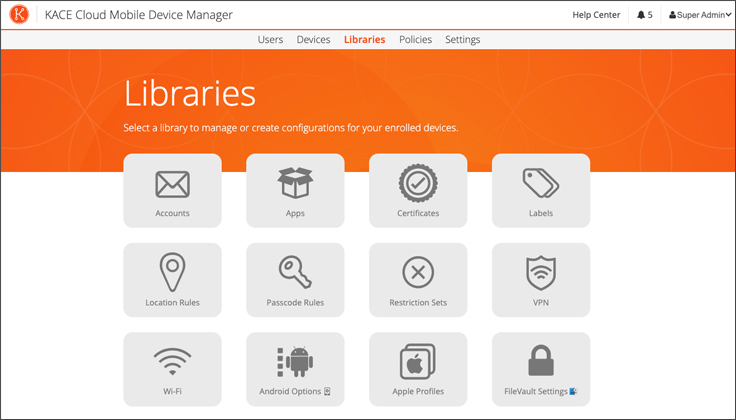 Automated device configuration
Features like device pre-enrollment and policies let you automate device configurations.