Description
Take the risk out of enterprise identity and access management
Mitigate risk, secure data, meet uptime requirements and satisfy compliance by giving your users access to data and applications they need and nothing more. Now, identity and access management (IAM) can be driven by business needs, not IT capabilities.
Features
SAP Certified
Provide certified deep SAP integration with fine-grained capabilities to enhance existing SAP security models- and even improve on them.
Risk reducer
Make better security decisions by combining security information and policies from multiple sources to reduce exposure and eliminate information silos.
Starling Connect
Extend identity governance capabilities to the cloud and reduce time to onboard new cloud-based applications.
Governance 360
Provide auditors with detailed, real-time governance reports that includes information about what resources are in your environment, who has access to them, when, and why that access was granted and terminated.
Provisioning done right
Eliminate manual mistakes by automating provisioning to any system, platform or application on premises or in the cloud. Extend provisioning to enterprise applications such as Exchange Online, SharePoint and Oracle E-Business Suite.
Privileged governance
Achieve a unified governance approach for all employees, regardless of their role and level of access. Users can request, provision and attest to privileged and general user access.
Data governance
Get control and visibility of your data.
Attestation dashboard
Schedule on-demand or routine attestation and display the status of group or distribution list in a clear, concise dashboard view; and produce detailed reports for discovery, as well as to support compliance.
Password reset
Reset user account passwords and set user-policy preferences that mirror organization's password rules and requirements. Enables multiple password policies depending user roles.
Multi-factor now
Enable two-factor authentication through Identity Manager with integrated deployment across enterprise applications and integrated with One Identity Starling Two-Factor Authentication (2FA).
Access done right
Enhance security by providing employees, contractors, partners, customers, students, alumni, constituents and patients with only the access they absolutely need – nothing more and nothing less.
Self-service access portal
Save time and reduce IT effort via a customizable online 'shopping cart' portal. Enable users to requests access to network resources, physical assets, groups and distribution lists and control access rights and permissions for their entire identity lifecycle while using predefined approval processes and workflows.
Welcome Page
Use the web portal to manage requests, track violations and get reports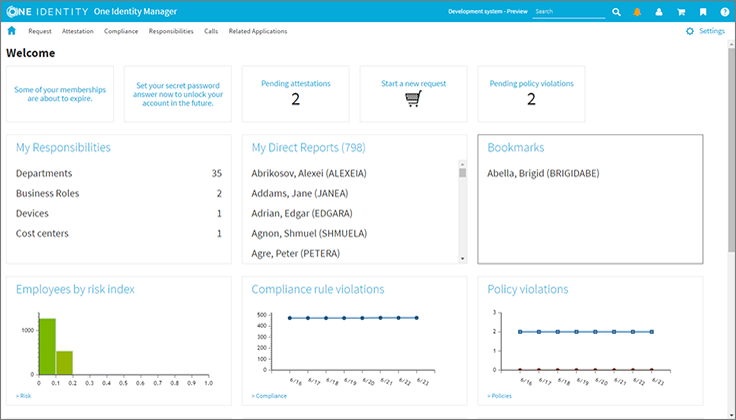 Access Governance
Quickly visualize compliance, risk and policy violations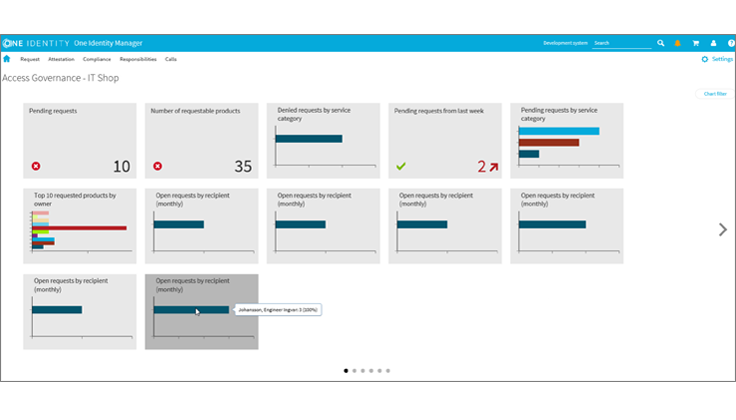 Governance Heatmap View
Quickly drill down on policy violations